Managing Weight Loss

Are you an over-eater, binge-eater, emotional eater, breakfast-skipper, fried-food loving, sugar addict, fast food junkie, junk food lover, sodaholic, chocoholic, breadaholic, and an empty the chips bag couch potato who sometimes eats in bed?
Welcome to the club. You and billions of people worldwide suffer from at least one of these struggles.
One more question. Are you overweight, stressed, depressed, lonely, angry, popping prescriptions, constantly sick, frustrated with life, and uncomfortable in your skin because you can't get control of your body? Again, welcome to a club that you and billions would love to leave.
In Managing Weight Loss – Part 1, I shared how diets set you up for failure, and how your mind needs to be reprogrammed with healthy habits in order to win the weight battle. Your mind is the most important part of a successful weight management plan, the second component is …
Food
You know the saying, "You are what you eat." Well, it's true. If you eat a lot of crap then your body, internally or externally, will resemble that.
It's tough to slow down life's roller-coaster, so we are always looking for ways to feel better, alleviate stress, and find more happiness. But please don't mimic the nearly 70% of Americans popping a prescription pill to feel better (Americans Are On At Least One Rx).
Instead, change your eating habits to foods that heal you, promote energy and happiness, and help you feel and live healthier. We all know how having the flu feels awful; but burdening your mind and body lugging around excessive weight every day is even worse.
When your life is jam-packed with stress and an un-ending To Do list, you have little time to focus on you. Utilizing food as your drug of choice to relieve stress and other everyday challenges offers short-lived happiness. This habit usually backfires, causing unnecessary weight gain that later becomes life threatening.
Reality check. Who is the most important being in the world to you? If you did not answer "me," then you need to call me right away. If you know it's you, but know that your eating habits don't represent that – no worries, I can help, please read on.
Someone recently asked me …
What Are Whole Foods?
That's a reasonable question, considering the numerous foodie buzz words, coupled with all of the highly processed and refined foods we unknowingly eat.
Whole foods are foods that you eat in their natural state. Foods which are unprocessed and unrefined. Foods with their vitamins, minerals, fiber, antioxidants, etc remaining in their natural state. An apple, zucchini, red bell pepper, carrots, kale are all plant-based whole foods. By the way, slice and dice those goodies and toss with a little balsamic vinegar, mustard and stevia, and you have a refreshing summer salad!
Raw broccoli is a whole food. So is broccoli soup when made with whole foods, minus any nutrients that were cooked-off. Eating a free-range chicken breast (from a chicken that ate non-GMO feed) is healthier than eating processed deli chicken. Eating organic beef is healthier than any fast-food burger or store bought beef, injected with growth hormones.
Ignore The Glut of Diet Regimens
To be successful at losing weight and maintaing a healthy weight, initially I have clients ignore the wealth of "I've got the solution" food regimens out there. Although many of them have value, not all regimens are for all people. My qualitative research revealed that bombarding clients with extensive rules and approaches becomes too challenging and cumbersome for everyday people to successfully adopt. They usually quit restrictive programs that do not include a healthy mind-shift.
Keep It Simple
Is the approach I offer my clients. You must do the work to reprogram your mind (seek professional help if desired) and make changes to your food regimen based on how fast or slow you would like to lose weight.
I prefer clients take their time losing weight (1) in order to avoid food withdrawal issues and (2) to afford the mind time to make healthy adjustments. My goals are to help people drop unhealthy weight and keep the weight off. We are both unsuccessful if a client gains the weight back. So, what should you drink and eat?
Water
Drink a glass of water first thing in the morning. Each day, drink at least eight, 8-ounce glasses of water. The Institute of Medicine recommends that an average healthy woman drinks 9 glasses daily and a man drinks 13. Drink more if you are able. If you feel light-headed, that's too much water. Reduce the amount you are drinking.
Decide On The Pace You Want To Lose Weight
Oftentimes, it took you a bit to pack on the pounds, and you carried the weight for some time too. So why not be kind to yourself and set a reasonable amount of time to lose the weight. You are more fun to be around if you don't go cold-turkey. Plus you even like yourself more when you're not adding unnecessary stress to your already hectic life.
Below is an easy to follow, "Keep It Simple Food Guide." Couple the information in the chart with a change in mindset, plus exercise, and you will lose weight.
KEEP IT SIMPLE FOOD GUIDE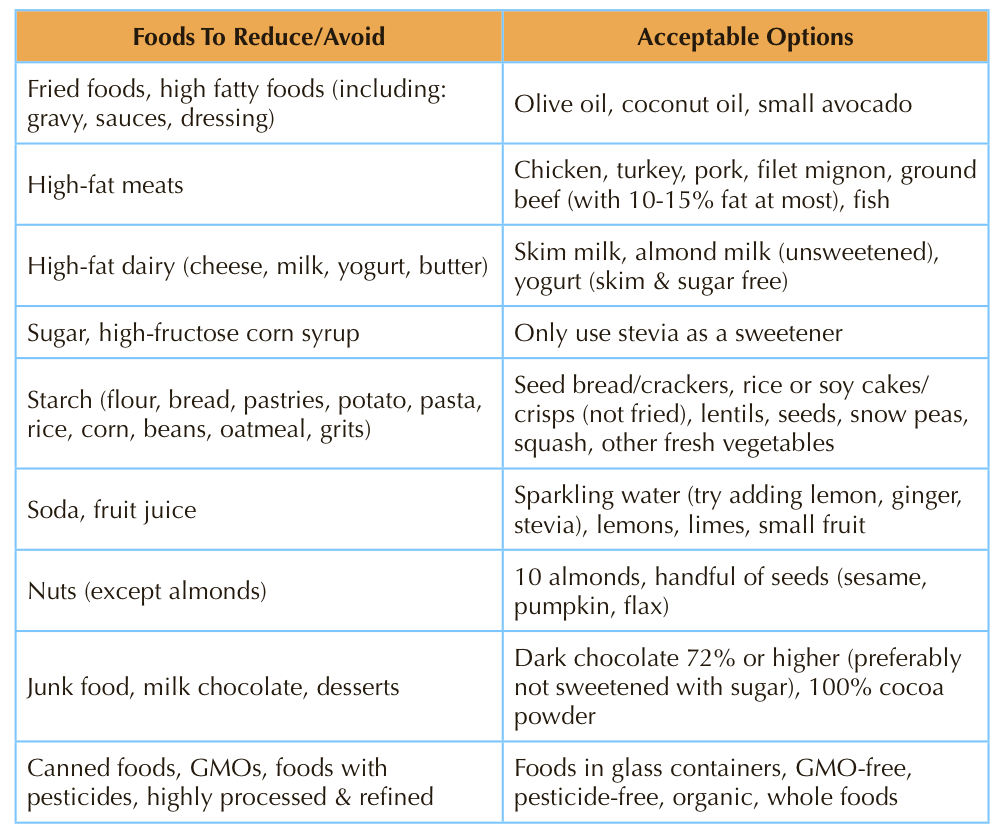 Fast Weight Loss
When I coach people and establish a food plan for them, I consider their health issues, allergies and food challenges. However, if you must lose weight fast, and you are in fairly-good health (check with your doctor first), you can always avoid everything in the left column. That's what I did when I helped clients drop significant weight in a short time period. Plus they were on an 80/20 diet of 80% vegetables and 20% meat.
Gradual Weight Loss
Since I'm not personally coaching you through your weight loss and management plan, I generally recommend the following:
Pick three items from the Avoid column that you are willing to reduce consuming by 50%. Overtime, slowly remove them from your diet, while replacing them with acceptable options in the right column.
Avoid sugar and high-fructose corn syrup.
If you drink whole milk reduce it to 2%. If you drink 2% reduce it to skim.
Do not eat starch for dinner or after 6 p.m. If you must have starch, have it at breakfast.
Do not eat after 8 p.m. or two hours before bed, unless you are eating a vegetable. You may have red wine, but beware of getting the munchies.
Use xylitol sweetener when a recipe calls for caramelized sugar.
Don't worry, if you must have that chocolate covered cream puff or fried chicken once per month. If you can go one month without a food you have been addicted to, then celebrating once per month is not a big deal. Enjoy, go for it! Just so you know, you will be surprised by how your cravings dissipate over time.
Healthy and Helpful Weight Management Foods to Eat
Vegetables – especially leafy greens. If you become hungry between meals, eat more veggies. Switching your meals to a large amount of raw vegetables can give you gas at first. So slowly increase raw vegetables to 80% of daily food consumed.
Wheat bran – great for scraping the intestine and colon walls. Keep bran in the fridge.  I prefer wheat bran over oat for two reasons. (1) It bulks up better in the body, thereby keeping the body more regular and (2) it doesn't give the increased sugar spike that oats give.
Rooibos Tea is caffeine-free and high in antioxidants. If you must have caffeine, Green Tea is high in antioxidants as well.
Oil free salad dressing (lemon/lime, balsamic/apple cider vinegar, stevia, dijon mustard, xanthan gum)
Stay Away From
GMOs (genetically modified organisms), pesticide-laden foods, processed and refined foods, and canned foods. Avoid them at all costs, for your body to function effectively.
Try your best to eat organic foods, GMO-free foods, hormone-free beef and dairy, and organic poultry whenever possible.
By the way, Environmental Working Group is a great resource for consumer guides on many subjects including, A Shoppers Guide to Pesticides On Produce.
Bowel Movements
Get comfortable with observing your bowel movements. You can learn a lot about what is going on with our body.
Know that bowel movements that are white or black are not good. Brown is good. Green is understandable if you are eating a lot of leafy green veggies. Red or yellow can be expected the next day after red or yellow beets. Rocks and pebbles are not what you want. Pushing to where you feel you may have an aneurism is not good either.
Test how long food stays in your body. Eat a heaping handful of seeds (pumpkin or sunflower) and see how long it takes for those seeds to exit your body. If it is the next day, congrats. Two days later, that's too long. A few hours after, that's too soon.
There are agreements and disagreements on the frequency of movements. Many Americans consider themselves fortunate if they have one bowel movement each morning. But having two movements each day allows you to release more toxins from your body. Don't be afraid of learning about yourself.
Be Nice To Yourself
Try not to make improving your health a bigger struggle than necessary. You can slowly change old habits to an effective healthy way of living. You only have one of you. Choose to nurture you and be the vibrant being you are meant to be!
Wishing you happiness.