Simple Tips To Nurture Self-Love

I once asked a client, "How can you love others if you don't even love yourself?" He bellowed, "Love, that's such an overused word. It doesn't have meaning anymore." I understood what he meant.
People in his life made such a big deal of the word, love, and how and whether it is understood, that he was burned out by it. His family and friends were overtly baffled by his lack of success with love, and past lovers browbeat him for not knowing how to love. He felt inadequate and disconnected from love. Soon, he feared and loathed it, cementing his misconception of being undeserving and incapable of experiencing love.
Perhaps you too can understand why love became a confusing and meaningless word to him. For many of my clients, "love," the word, act, and emotion is inconsistent and overwhelming. Hence, they unknowingly block themselves from it and ultimately deem it impossible. The best way to become comfortable with love and reap its benefits is to practice self-love. Once it is natural for you to love yourself on a daily basis, love with others comes easily.
When practicing self-love, you must STOP BLAMING YOURSELF for not having self-love. Why? Because it's not your fault. If you weren't taught how to love yourself, or you were raised by a loving person who always put others first, or you don't have people in your life who live this way … then how can you blame yourself for something you did not learn? You weren't taught it, so don't beat yourself up over it!
How To Practice Self-Love
First you must accept that, "I am the most important person in this world to me." This belief, that you love yourself before others, is a fundamental requirement of self-love. Once you are willing to accept that you must love yourself more than your children, a lover, a parent or guardian, or anyone else, you are ready to practice self-love.
SELF-LOVE IS ABOUT BEING GOOD TO YOURSELF. It includes nurturing your feelings, thoughts and actions for your betterment. Consider the following brief list of self-love recommendations.
SELF-LOVE TIPS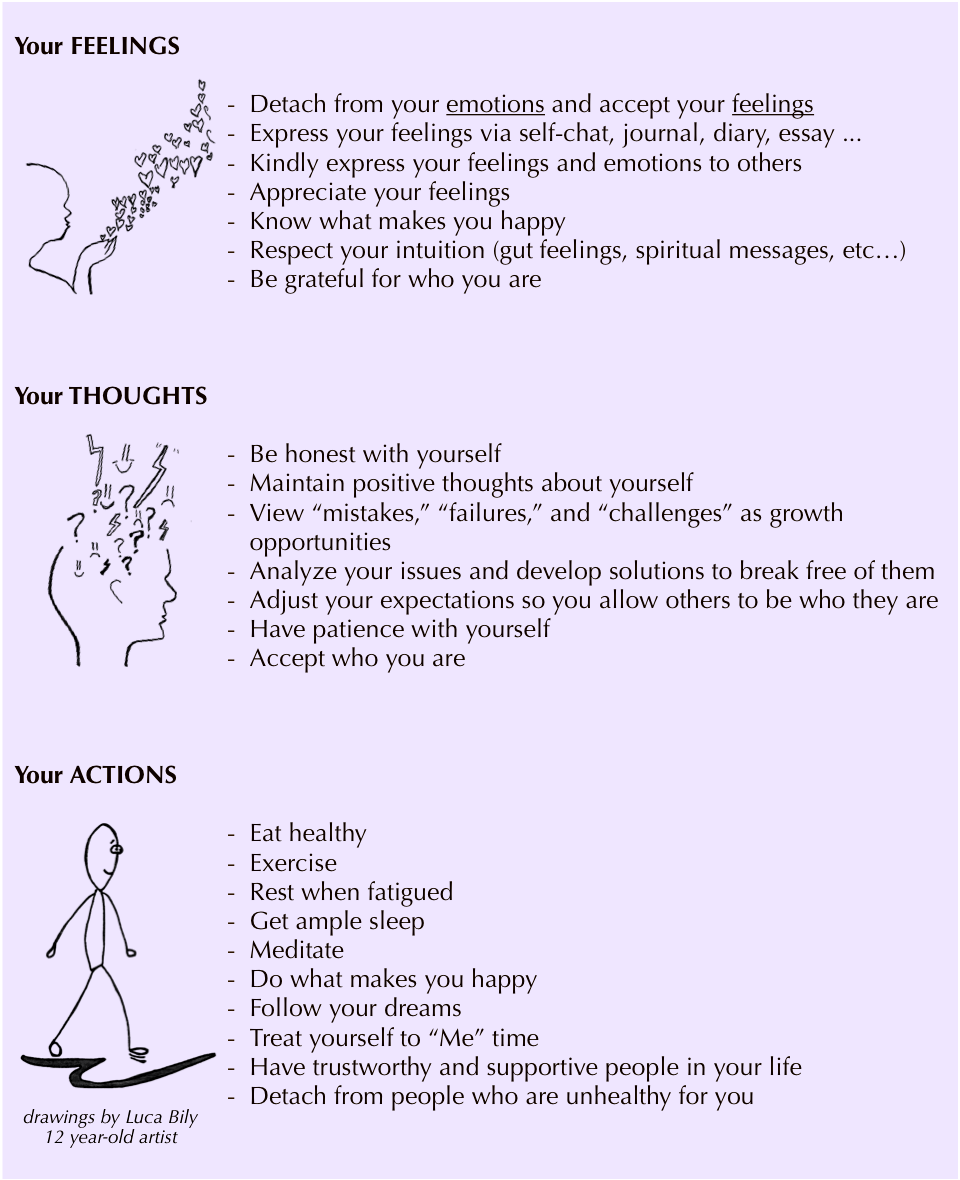 Every day, just do what is best for you to be a better person. A person who is happier and healthier, but not at the expense of another being. A person who appreciates your own individuality, strengths, and even those areas where you need to grow.
Don't sweat the small stuff nor try to force change to happen. Understand that what happens in your life is influenced by past thoughts and actions. Adjust what you think and act in a positive way, so you attract more positivity in your life.
Practicing Self-Love Is Difficult Sometimes
It's difficult to practice self-love when you are in the middle of a challenging situation and you are behaving at your worst. If you can stop yourself and walk away to calm down and regain composure, that's beneficial. However, if you can't and you feel you must finish the bombastic exchange and then calm down afterwards, just know that you will still need to face yourself with honesty to change your behavior for your betterment.
The good news is that, when you work to solve tough personal challenges they usually prove to be the most rewarding growth moments for you. Don't give up on the process, because it provides invaluable lessons in resilience. You become more confident to overcome future challenges, manage stress better, and are happier to be you.
Be Good To Yourself
Celebrate who you are. Even if you don't like parts of you, celebrate that part with the understanding that in the future you will know how to appreciate it more. Remind yourself that any challenge is a growth opportunity, a gift for you to overcome deep-rooted emotional challenges with a reward of increased self-love.
The more willing you are to face a challenge that impedes self-love, the closer you are to experiencing self-love. Moreover, your efforts to adjust your core thoughts and actions to be from a place of love expands your ability to live love and attract love.
How can you receive the love you deserve, if you don't give yourself the love you deserve? It is not possible. You must love yourself first!
Wishing you happiness.